Watch Smashing Pumpkins play rarities while re-staging 'Siamese Dream' release show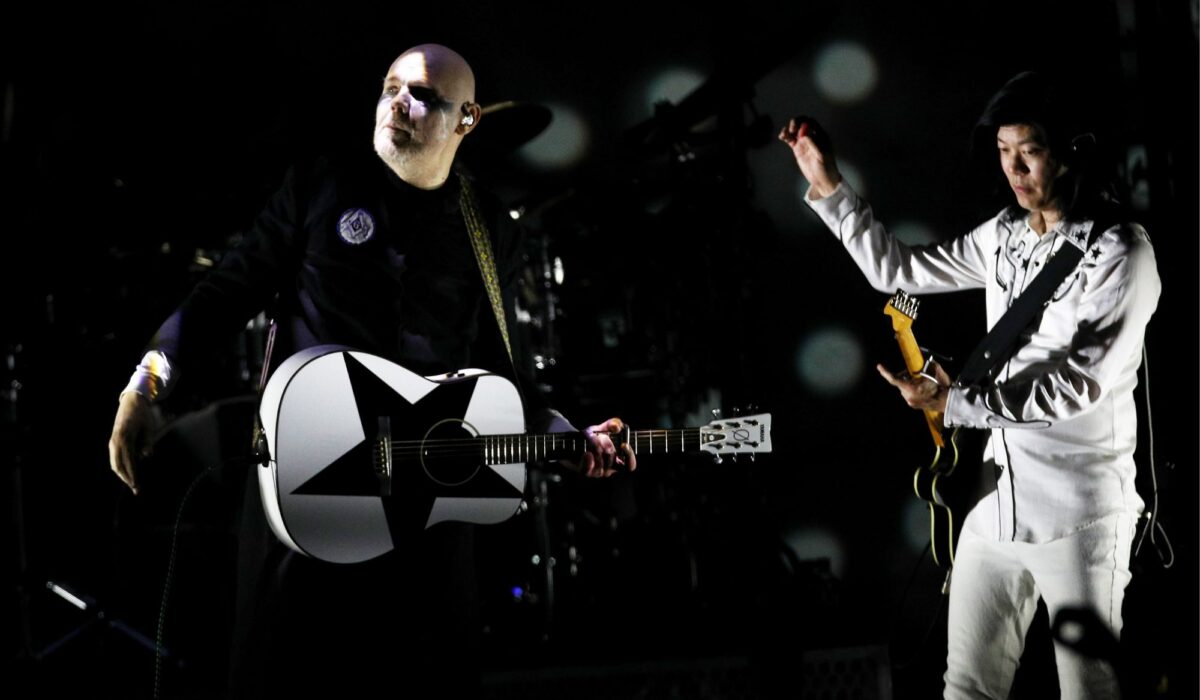 Smashing Pumpkins have re-staged the release show they held for their 'Siamese Dream' album 30 years ago and performed numerous rarities at the event.
The show the band recreated was to celebrate the release of their 1993 album 'Siamese Dream', which saw them play a now-famous acoustic set at midnight at Tower Records, Chicago.
Now, three decades after the moment took place, the band recreated the set at Madame Zuzu's – a tea house located on the outskirts of Chicago and owned by frontman Billy Corgan.
Taking place last Sunday (September 17), the band had the tea house made to look like the original Tower Records set. According to Stereogum, Tower Records itself also participated in the stunt, and in an Instagram update, Corgan revealed it marked the first physical version of a Tower Records store since 2006.
As well as recreating the setting from their 1993 release show, the band also had another surprise installed for fans, as they brought out a nearly identical set to that of the original, as well as some rarities.
These included the track 'Luna', which hadn't been performed live since 2006, and 'Spaceboy' – a deep cut from the album which the band have not included in their setlist since 2016.
Other highlights included a rendition of 'Purr Snickety' at the end of the 10-song setlist, which is a B-side to their 'Cherub Rock' single and was played for the first time since 1991. Finally, they also brought out the first-ever live performance of 'Spaced': a song from the 'Siamese Dream' session that ended up on the rarities album 'Pisces Iscariot'.
Unlike the 1993 set, however, was the line-up of the band as D'Arcy Wretzky did not make an appearance at the show. Corgan did acknowledge her absence, as well as others who contributed to the album who could not be at the event. "Not everyone's here that should be here, but that's just the way life goes," he said.
Check out more footage of the show below, as well as the full setlist.
Smashing Pumpkins played:
1. 'Rocket'
2. 'Cherub Rock'
3. 'Today'
4. 'Disarm'
5. 'Spaceboy'
6. 'Spaced'
7. 'Mayonaise'
8. 'Hummer'
9. 'Luna'
10. 'Purr Snickety'
In other Smashing Pumpkins news, earlier this year Corgan revealed that he once told Pantera to "shut the fuck up" began questioning Metallica.
"They were just going on and on about Metallica. Not in a negative way, more confused like, 'I love Metallica, but I don't get it and they're not metal and what's going on?'," he explained.
"I knew them well enough that they would sort of listen to me and I said 'You know what? Shut the fuck up… You guys right now are the best metal band on the fucking planet, okay? You just focus on Pantera. You just focus on being the greatest metal band on the fucking planet. Metallica will work it out'. And they did, right?"