Dancing Astronaut celebrates National Album Day 2020: quarantine staff selects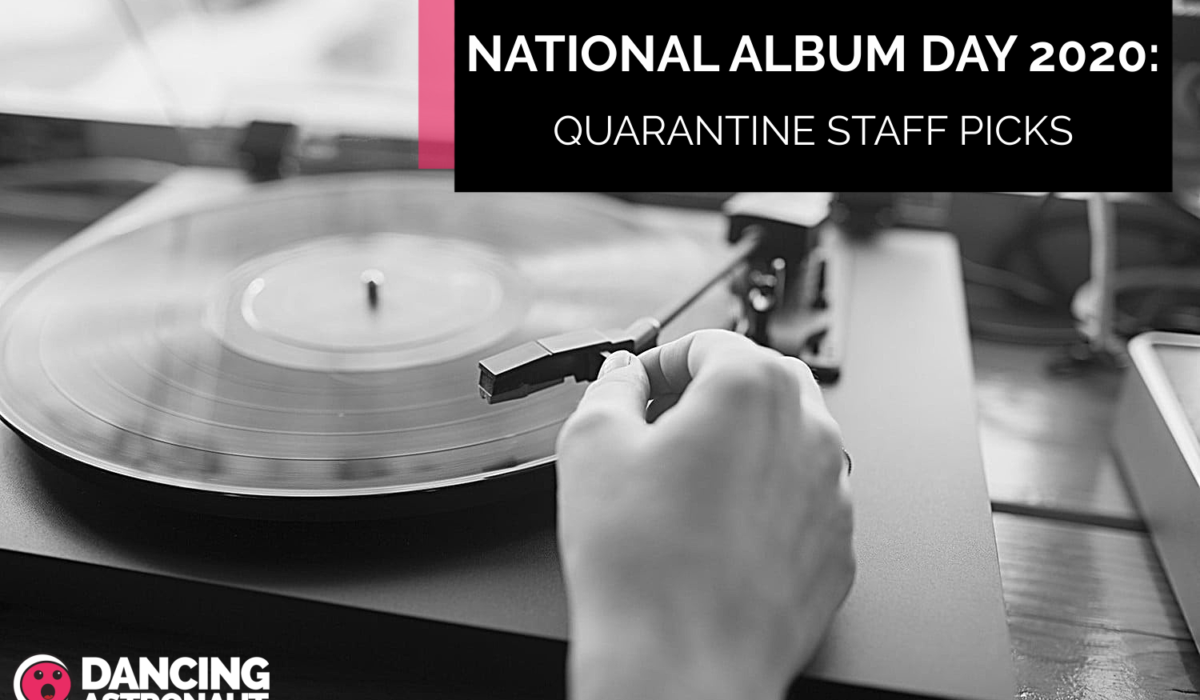 by: Rachel Narozniak

Oct 12, 2020

If there is anything that the ongoing COVID-19 pandemic has made incontrovertibly clear, it is the enduring power of music. In even the most erratic and tumultuous of times, music assuages, and 2020 is living proof.
In the United States and around the world, music soundtracked listeners' respective quarantines, providing solace and a reprieve from oft-grim realities. The albums that streamers came to rely on during this period, new and familiar alike, would leave indelible impressions on those who listened, and in the weeks, months, and years to follow the COVID-19 health crisis, like the power of music, these sonic bonds will not fade.
In honor of National Album Day, observed on October 10, 2020, Dancing Astronaut staff share the cross-genre LPs that carried them through the COVID-19 quarantine.
---
Kygo – Golden Hour
"Based on the Golden Hour singles alone, I definitely had lofty expectations that Kygo's third album could potentially unseat what I believe to be his magnum opus, Cloud Nine. Just about everything from Golden Hour's 19-song tracklist has been in my daily rotation since its full delivery in May, and I wholeheartedly believe that it's truly some of Kygo's greatest work to date. Listening to it while simultaneously thinking about when I'll eventually get to hear it in person isn't easy, but it's been my go-to album throughout this year."

-Ross Goldenberg
SG Lewis – Dusk, Dark, Dawn
"In a time of monotony, where every day felt very much the same, SG Lewis' three-part concept series, Dusk, Dark, Dawn—developed to represent the different stages of an evening out—reinstated a sense of temporal segmentation for me. Shortly after the COVID-19 quarantine began, the daily rhythm of a day and the transition from day to night seemed to totally evaporate. In their absence was this feeling of endless, unchanging time; the same day lived over and over and over again.

SG Lewis' triptych helped offset this stasis in its clear-cut organization around different times of night and day and what these distinct periods would sound like. Listening to these three productions livened up the mood of my living room and reminded me of what an evening out could sound and feel like (see Dawn), even if firsthand experience was unattainable."

-Rachel Narozniak
Madeon – Good Faith
"This album typically matches my emotions towards the beginning of the week, and there's not a song on the project I ever skip. Madeon's textures are so beautiful, and his arrangements are unique enough to put me in an uplifting dream world that really picks up my spirits."

-Chris Stack
Kendrick Lamar – good kid, m.A.A.d city
"One of my favorite albums of all time. Quarantine and the general state of the world had me thinking a lot about the thematic potency of some of Kendrick's work; although, this record might not be the most politically-charged, good kid, m.A.A.d city always felt like a familiar, safe home."

-Jessica Mao
alt-J – An Awesome Wave
"The record that's gotten me through quarantine is alt-J's 'An Awesome Wave' because there's always something new that I catch every time I hear it. There's also a little bit of everything and it's insanely beautiful and well produced."

-Sami Weisband
Lady Gaga – Chromatica
"One thing everyone needs a little bit of during quarantine is positivity. Because of this, pop music and electronic pop has played a bigger role in my life now than it ever has. The queen of electronic pop herself, Lady Gaga released 16 pieces of sonic heaven that make up Chromatica. Gaga enlists an entirely unanticipated list of collaborators including the legendary Elton John, pop royalty Ariana Grande, and South Korean girl group BLACKPINK.

While Lady Gaga spans a variety of heartfelt topics in her newest album, her music is unapologetically energetic and can bring hope and happiness to the monotony of lockdown. Chromatica proves that Lady Gaga not only has 'still got it,' but also proves that her best output here or could even be still to come."

-Farrell Sweeney
Beyoncé – The Lion King: The Gift
"This album was not only one of my favorites from last year, but Beyoncé also put out an entire music video MOVIE called Black Is King for the project, and it's my favorite piece of music video content that I've ever witnessed by MILES. I've watched it full four times so far."

-Chris Stack
Lane 8 – Brightest Lights
"Before witnessing Lane 8 work his magic firsthand at Lollapalooza last August, I wasn't all that familiar with his music. Considering how much I loved the set, I took the time to listen to Brightest Lights when it came out before the pandemic set in, and maybe it's recency bias, but I have it ranked amongst some of my favorite dance music albums of all time. Lane 8's music is so simple and relaxing, while still being intricate and uplifting, and it's the type of sound that I find myself continually coming back to in this disaster of a year."

-Ross Goldenberg
Phoebe Bridgers – Punisher
"For me, Punisher has been absolutely essential for surviving lockdown. Bridgers' heart wrenching songwriting makes me nostalgic for things that never even happened to me, and her immaculate instrumental work is so easy to lose yourself in. Punisher's immersive qualities always bring emotions I may be pushing down to the surface, and its explosive finish leaves me riding a cathartic high."

-Mitchell Rose
JAY-Z and Linkin Park – Collision Course 
"JAY-Z and Linkin Park coming together for Collision Course is, for me, an album that will never age and one that I will never grow out of musically. Want to get your energy up? Want to get your anger out? Want to take a trip back to 2004 before all of this happened? Collision Course has the capacity to take the listener to all of those different places. Each song on the EP combines the heart and soul of both Linkin Park and Jay-Z's original releases into new and doubly captivating outputs."

-Farrell Sweeney
Dua Lipa, The Blessed Madonna – Club Future Nostalgia
"I was so pumped for this project because Dua Lipa's Future Nostalgia was my favorite pop album in 2020, and she converted the project into a flawless house remix album with dance music legends. I listen to this more towards the end of my weeks when my spirits are higher and the weekend is in sight or on long bike rides."

-Chris Stack
Above & Beyond, Ocean Lab – Sirens of the Sea
"I'm not gonna deny that I missed (and still miss) live shows, being with my people, and having the dance music experience. Coincidentally, it's also Anjunabeats' 20th anniversary so an obscene amount of Anjuna cuts have been in my queue. Putting on this record is like transcendental healing. Nothing beats a healthy dose of uplifting progressive trance."

-Jessica Mao
Skrillex – Recess
"Luckily there's been no shortage of new music this year, though with cabin fever and quarantine nerves rubbing shoulders with election stress and just general anxiety around our heated cultural climate, I've found myself reverting back to the records that comfort me most. So while Run The Jewels 4, Mac Miller's Circles, Khruangbin's Texas Sun EP, and Lady Gaga's Chromatica definitely moved me this year, in 2020 I've found myself going back to my most tried and true albums for a little safety and reassurance amid all this chaos. Repeated rinses of Skrillex's superlative Recess prove the man was well ahead of the curve six years ago, roping together Jersey club, big room, tech house, drum 'n' bass, and of course a heaping dose of brostep on his debut LP in 2014. Six years later and we're still waiting on the edge of our seats to see if Skrillex can repeat history—that's the mark of a special album."

-David Klemow
Justice – †
"On the subject of aging like fine wine, Justice's inimitable † has been one of the main records getting me through this year. Of course I've had to swap in a few Woman Worldwide edits, but repeatedly revisiting Justice's debut brings back the memories of when, how, and why I got into all of this in the first place. The chest-rattling opening notes of 'Genesis' still make the hairs on my arm stand up, even after all this time."

-David Klemow
Chance The Rapper – Acid Rap
"Chance The Rapper's breakthrough Acid Rap mixtape never gets old, and while most of it still holds up perfectly seven years after it emerged on SoundCloud, the project is now more of a barometer of Chance's early lyrical talent than anything else. It clearly showed where the Chicago emcee was about to go. The way that Chance hopscotches around different beats, cadences, and collaborating rappers' flows on this mixtape sets the precedent for the massive comeup that Chance would enjoy immediately following the mixtape's release."

-David Klemow
JAY-Z – The Black Album
"I've been hard pressed to find a better stroll down memory lane than the warm, buzzing nostalgia of Kanye's Graduation. Similarly, I think I've listened to good kid, m.A.A.d city more in 2020 than I did in 2012 when it landed, but by this point I have just entrenched myself in the belief that JAY-Z's L'album Noir is the greatest, most complete rap album of all time."
Categories: Features