The Streets' Mike Skinner says his new film was both a "nightmare" and an "obsession" to make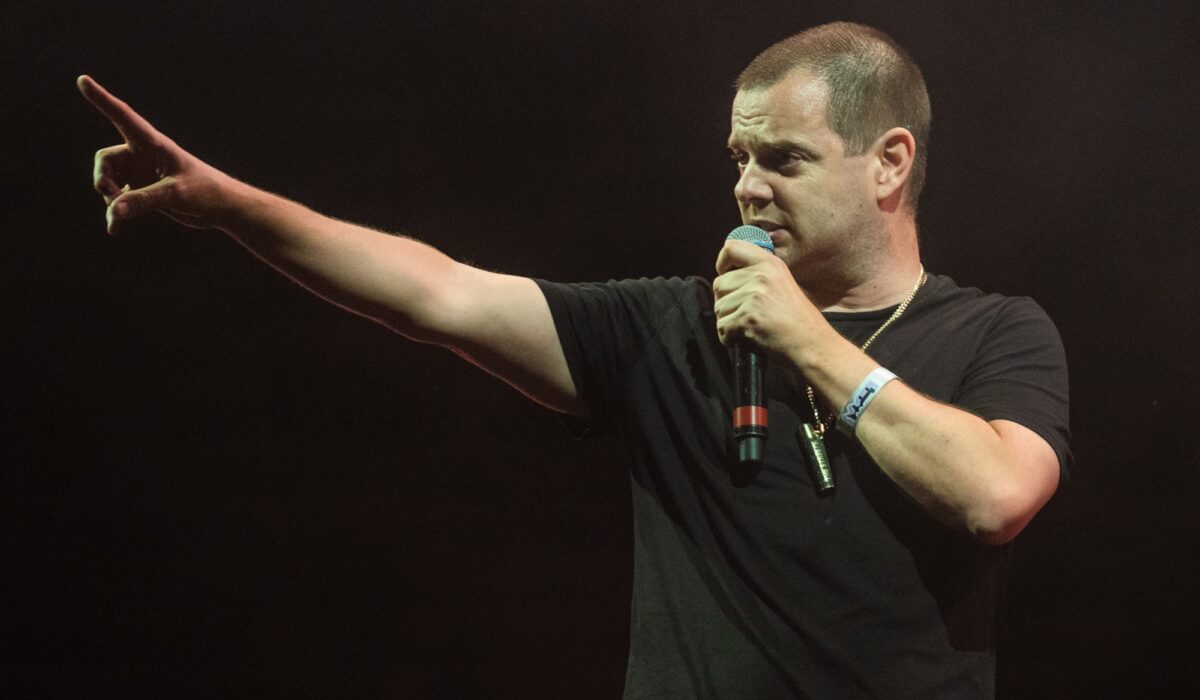 The Streets Mike Skinner has opened up about his new film, describing it as a both a "nightmare" to get made and his "obsession."
READ MORE: The Streets at South Facing Festival: celebratory, silly and absolutely heroic
Skinner has spent ten years working on getting his film, The Darker The Shadow, The Brighter The Light, to screens. A murder-mystery, it's described as "tripped out neo-noir" and follows the life of a struggling DJ. The film has been created, written, directed, filmed and edited by Skinner, who also stars in the project.
Speaking to Sky News at the premiere of the film in London, he opened up about the difficulties of getting the film made, alongside his determination to make sure it reached the big screen.
Speaking about what to expect, Skinner told Sky News: "it's a musical but the songs are the voiceover." He joked with fans not to expect "jazz hands or dancing around on lampposts," adding that "it's a very simple story that started out almost like a film noir type thing, but then got carried away."
Opening up about the project, he added: "Knowing that I'm working on this film and then working on this film has been a nightmare. It's been an obsession…I kind of did everything myself so it just didn't stop, really. The tunnel was very long, very dark, and there was no light – apart from a train, maybe."
Speaking about the difficulty of getting the film financed, Skinner said: "We did try to get funding. No one wanted to give us any money. That was 2019. I mean, established directors can't make films, you know, so I've not got a chance in hell, really. I kind of knew that. End of 2019 I just thought, I've just got to do this myself or it's not going to get done. And it's really hard."
Now, with the film launching, he said he was "completely overwhelmed" by it finally arriving in cinemas.
The Streets meanwhile are due to hit the road this autumn in support of their sixth full-length album 'The Darker The Shadow, The Brighter The Light', which comes out on October 20.
The dates are listed in full below and you'll be able to buy yours here.
The Streets will play:
OCTOBER 2023
22 – Belfast, Telegraph Building (new date)
24 – Dublin, 3Olympia Theatre (new date)
26 – Nottingham, Rock City
27 – Manchester, O2 Victoria Warehouse
28 – Sheffield, O2 Academy
NOVEMBER 2023 
2 – Glasgow, O2 Academy
3 – Newcastle, O2 City Hall
4 – Leeds, O2 Academy
9 – Liverpool, The Mountford Hall
10 – Birmingham, O2 Academy
11 – Birmingham, O2 Academy
13 – Norwich, The Nick Rayns LCR, UEA
14 – Bournemouth, O2 Academy
16 – London, Alexandra Palace